Thursday with Amanda: How to Write a Novel that is Easy to Market
Amanda Luedeke is a literary agent with MacGregor Literary. Every Thursday, she posts about growing your author platform. You can follow her on Twitter @amandaluedeke or join her Facebook group to stay current with her wheelings and dealings as an agent. You can also check out her marketing skills on Fiverr. Her author marketing book, The Extroverted Writer, is available from Amazon and Barnes & Noble.
Does this sound familiar?
You have a novel that seems to be going nowhere. It's a romance, after all. And there are a bazillion other romance novels out there, competing for the same readers. So you try to think outside the box. You can't really promote yourself, because it's the beginning of your career and you don't have a massive fanbase yet, so you turn to your book to help you. It's really all you have to offer.
You blog excerpts of your book and set up character Twitter accounts and pin a ton of pictures that remind you of your novel and you do gift card giveaways and chapter one booklets and you order bookmarks and go to bookstores and … nothing seems to be working.
You're still a voice among thousands of other voices. And you're doing your song and dance along with everyone else, while this mass of potential readers watches.
Novels can be next to impossible to promote or market. Unlike nonfiction, they don't solve problems (in the conventional sense) or help readers out of holes. They don't impart knowledge and wisdom in the same way that nonfiction books do, and they certainly don't pretend to have all the answers. Nope. Instead, fiction is viewed as a form of entertainment. A luxury item for those who have the time.
This means that each time a novel is read it's because that person has chosen to spend their free time not with movies or Facebook or friends or church or shopping or playing sports or hanging out with their kids or ANY other hobby that they may have. No, they are choosing to read a story.
And because they have chosen to read this story instead of doing any of the other countless awesome things they could be doing, they want that story to be a perfect fit. They want it to be the right choice.
So it's really not a big surprise that readers don't simply pluck any old book off the shelf. They weigh recommendations from friends. They weigh their mood. And they weigh the likelihood that they will connect with a story based on their interests. 
This is where many novels fall short.
A majority of romance novels that are pitched to me involve the same idea. There is a young woman. There is a young man. There is a small town. There is a family business (maybe a B&B or something of the sort). There is conflict. There is resolution.
Nothing about this idea, aside for maybe the B&B, stands out. Nothing.
Here's a typical women's fiction idea:
There is a woman. She is struggling because of ___ (divorce, infidelity, abuse, etc.). There is a man. He is nice but she doesn't trust him. There is a town and a few friends. She walks around. She hangs out with friends. She slowly heals. Something happens to set her back (ex-husband comes back into town, she finds out she's pregnant, she becomes afraid to go out alone, etc.). Friends and man help her through. She heals.
Again…nothing stands out. There is nothing to connect this story with the reader. There is nothing that screams HEY! I THINK WE'RE A MATCH!! because there is nothing that connects the reader to the story. There is nothing specific about these stories and these characters that readers can latch on to.
Which means they're impossible to promote.
The more unique a novel is–the more it targets a specific type of person with specific hobbies and specific tastes–the easier it is to promote.
What do I mean by this? Let me point you to two examples.
From the Start by Melissa Tagg and Reservations for Two by Hillary Manton Lodge are romance novels. They pretty much fit the above romance description, but they're also MORE than that.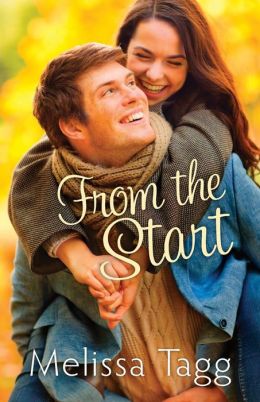 In From the Start you have themes of sports and writing and movie-making ON TOP of the typical romance themes. By taking any one of the unique themes, the author has an entire world of marketing opportunity. She can tailor her marketing to readers who are also fans of football or readers who have a soft spot for those made-for-TV movies.
In Reservations for Two, you again have all the typical themes, except this is a foodie book! So anyone who is part of that foodie movement will see this as a perfect match. A perfect way to spend their free time.
When writing your novel, think about reader groups. Think about hobbies or things of interest or pastimes that you can put into your book. Then, when it comes time to promote, you simply target those groups and make them aware that your book exists. The best part? They won't be facing this huge question of "Will I like this?" because you've answered that for them by putting things that they like INSIDE THE BOOK.
It's a beautiful thing that not only strengthens marketing, but it will help your book stand out.
Is this making sense? I feel it's a big topic to cover in one post, so let me know if you have questions! I'm happy to try and help you figure out how you can make YOUR novel a better fit for niche groups.